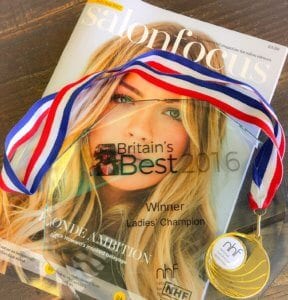 As Pride's own Bridie Thorne prepares to take on the world at the World Skills competition held in Abu Dhabi, industry magazine Salon Focus took a moment to feature Bridie in their July/August 2017 issue. Bridie talks about competing in the National Hairdressing Federation's Britain's Best competition and what it was like to be last year's Ladies Champion.
Tell it like it is Bride…
"Although I had entered competitions before, Britain's Best was the first time where I had ever won the top prize.
Winning Britain's Best gave me a huge confidence boost; it has definitely helped me in my career and in terms of building up my own column. I now regularly enter competitions. [Bridie is currently in the UK squad competing against the rest of the world! – ed] It also created a real buzz in the salon and among the team. In the spring, for example, we entered the NHF's Blackpool Red Rose competition as a salon team – so six or seven of us travelled to Blackpool and had a great time.
Entering a competition like Britain's Best is so worth doing. But if you want to stand out, do put the training in; don't go into it light-heartedly."